2006 Temperance Hill Pinot Noir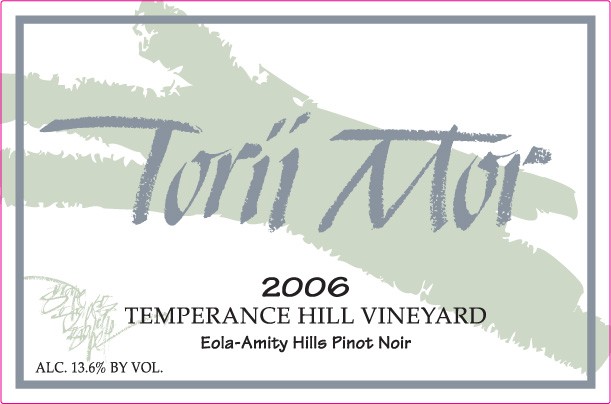 Wine Specs
Bottling Date
December 18th, 2007
Residual Sugar
0.2 gr/100 ml
Wine Specs
Bottling Date
December 18th, 2007
Residual Sugar
0.2 gr/100 ml
Wine Profile
Tasting Notes
This wine has a rich, juicy aroma of raspberry jam, dark cherry, oak spices, and a slight vegetal quality (dill, cold ashes) that is distinctly Temperance Hill Vineyard. The flavors show rich earthiness and sweet dark cherries, blackberries, dark chocolate, layered with cigar box-oak spices. The mouth feel is thick, rich and sweet with a spicy finish. The texture shows rich sweet tannins that melt with the fruit in the long finish. This wine will benefit from a little more cellaring (until summer 2009), or decanted and aerated to soften up the tannins.
Vineyard Notes
Temperance Hill Vineyard is located in northern Polk County in the Eola-Amity Hills AVA; it was initially planted in the late 1970's. Torii Mor's portion of the vineyard is a steeply sloping, west-facing field planted to the Pommard clone and south-facing Dijon 777 clone of Pinot noir. The average elevation of the blocks are between700 and 800 feet, with volcanic Nekia-Ritner soils being dominant.
Production Notes
The Temperance Hill Vineyard Pinot noir, harvested on October 12th at 1.71 tons per acre, was fermented by indigenous yeast in small fermenters. It was punched down three times daily, pressed very gently, and racked to a variety of new (40%) and used French oak barrels (60% neutral). The barrels were racked in April, then again in August, when the blend was put together before returning to barrels for another 3 months. This wine is compromised of 70 % Pommard and 30% Dijon 777 clones.
Winemaker Notes
The 2006 growing season started a little later than normal by a week to 10 days. Bud break happened in the latter part of April. May and June turned out to be warm, with plenty of showers; and bloom was right on time, starting mid June in the Willamette Valley with some cool weather that did not limit the fruit set. The summer was dry and warm and the vines grew with a lot more vigor than in previous years. The vineyard crew had to work harder this year to control shade in the canopy by doing more row edging and leaf pulling. We also had to do a more severe green harvest due to the large quantity and size of the clusters. The second crop was also very large and had to be removed. All of our fruit was hand picked, beautifully ripe and clean.