January 12, 2017 | Alexis Truitt
10 Things Your Probably Didn't Know About Torii Mor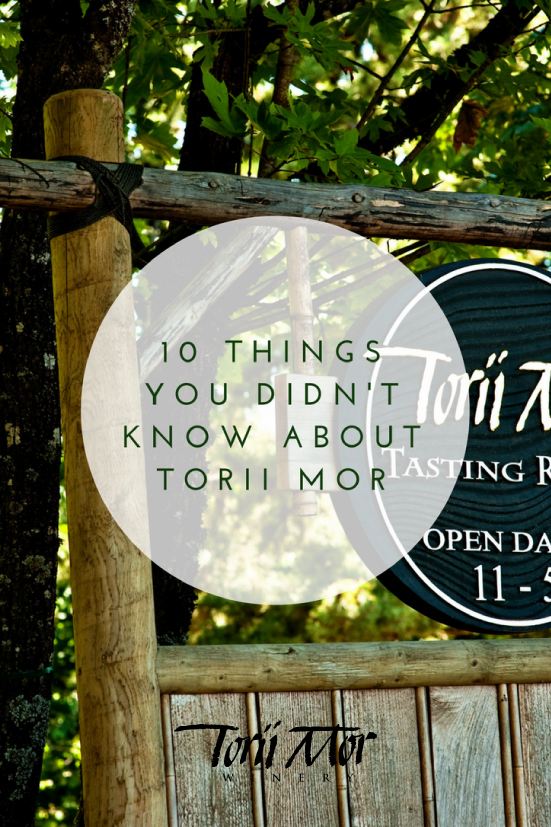 Whether you're new to Torii Mor or been drinking our wine for ages, here are the top 10 things you probably didn't know about us!
Torii Mor means "earth gate" - Torii is Japanese for gate, and you can see many Japanese Torii gates on our property. Mor is ancient Scandanavian for earth, and together, the name Torii Mor represents how wine connects us to the earth through terroir.
Olson Estate Vineyard was named after our owner - Our owner Dr. Don Olson bought the winery in the 80's and named the estate after himself.
Olson Estate Vineyard was planted in 1972 - Before Dr. Olson bought the vineyard, the land was owned by the McDaniels family who originally planted the vines. The McDaniels made wine from the property for several years before selling the vineyard to Dr. Olson.
The Japanese Garden on our property is original to the estate - The McDaniels family planted the Japanese garden the same time they planted the vines and the garden has become a beloved part of the estate and of Torii Mor. Hundreds of people enjoy the garden year long, and particularly in the summer to get a respite from the heat.
Jacques Torii Mor as head winemaker in 2004 - Our winemaker Jacques Tardy came to us with a slew of experiences in winemaking, particularly his Burgundian heritage. With generations of wine making knowledge under his belt and a heart to let the grapes speak for themselves, Jacques makes the incredible Torii Mor wine you know and love.
Our gravity flow winery was built in 2007 - After decades of making wine in other facilities, we finally built our own gravity flow winery and moved in in 2007.
We make our own brandy for our Syrah Port - Ever since we started making our Syrah Port, we've made our own brandy just for the wine. We use our own grapes and water from the aquifer on the property. In 2014, we bottled the brandy and now make it available as its own product.
Our vineyard is planted in Jory soil - The beautiful red clay soil characteristic of the Dundee Hills is prevalent on our little part of the Dundee Hills. The Jory soil gives our wines that special something that helps them stand out and really wow you.
Our first vintage was 1993 - The very first Pinot we produced was our 1993 Oregon Pinot Noir, 23 years ago!
Our vines are from David Lett's original stash - Our vines are some of the oldest in the valley and luckily, we haven't had too many inflicted with phylloxera and have retained our 40+ year old vines.
Cheers!
Alexis Truitt
Social Media and Marketing