March 23, 2017 | Alexis Truitt
2016 Rosé: Grape to Bottle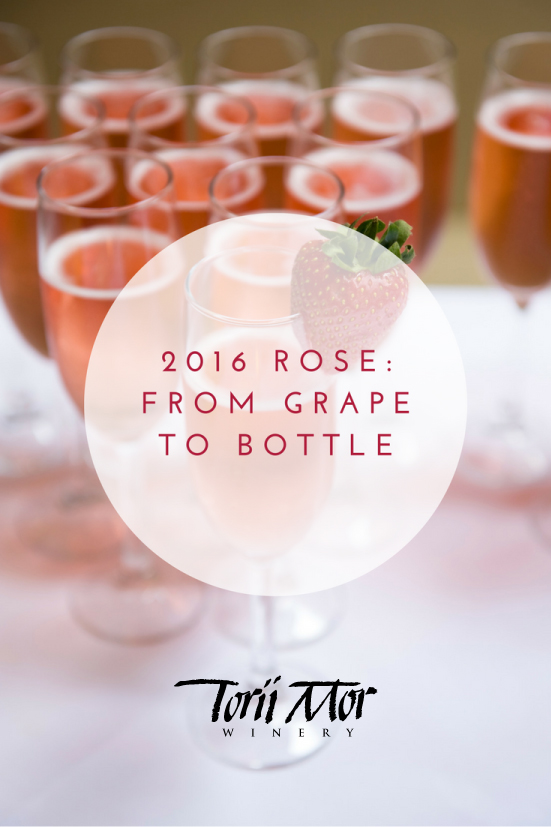 Each year, our Rosé is met with glee and anticipation. Regardless of how you enjoy your Rosé, one thing is for sure: it never lasts long.
But what is the process behind this much-loved wine? Today we're taking you behind the scenes to explore exactly how the 2016 Rosé came to be, starting from grape selection all the way to bottling day.
Grape Selection
There are generally two ways Rosé is made: specially selecting grapes for the pink wine or using extra juice in a process called saignée. We selected the grapes for our pink wine from two vineyards: Varga Vineyard in the Eola-Amity Hills and Kraemer Vineyard in the Willamette Valley. The grapes from the Varga Vineyard are in a more shaded area of the vineyard.
Skin Deep
Jacques let the juice soak on the skins for about 20 hours. This imparts the beautiful salmon color of the wine.
Bottling Day
Due to popular demand and selling out every year, we upped the case production this year. We produced 500 cases total. The wine is bottled with a screw cap closure, as are all our white wines. This allows for easy opening at summer time picnics and beach bonfires.
Once the Rosé is bottled it ends up at your dinner table, brunch buffet, your Thanksgiving feast. Rosé is perfect for numerous occasions and pairs well with most foods, making it a stunningly versatile wine to have in your collection.
Be sure to order your bottles before we run out! This wine is always our most popular wine each year and is gone faster than we can blink!