October 6, 2016 | Alexis Truitt
A Special Club Recipe for Fall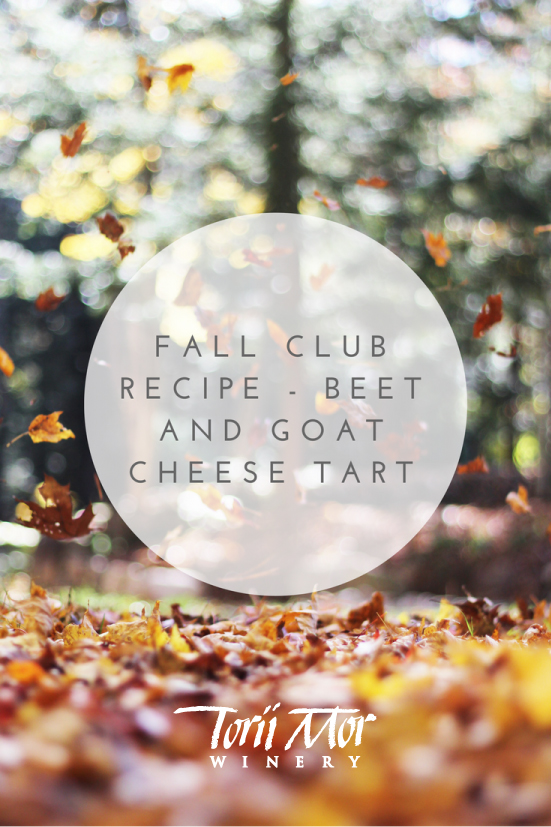 One of the perks of the wine club is the delicious recipes included with every shipment. We love to do wine pairings around here, so this is a great treat to inspire a dinner during the week!
This week I'm featuring one of the recipes from our September Club shipment. If you love this recipe and want more delicious wine pairings like this, join our wine club! You get wine four times a year, get incredible benefits (like discounts, special promotions, and events), and special treatment as part of the Torii Mor family.
On to the recipe!
Beet and Chevre Tarte Tatin - Pair with our 2015 Pinot Blanc
Ingredients
2 Large Beets
Creamy Goat Cheese (Chevre)
1 Granny Smith Apple
Salt and Pepper
Filo Dough
Instructions
Preheat oven to 375 degrees. Let chevre sit out to come to room temperature. Take both large beets in a roasting pan lined with foil, and season with oil, salt, and pepper. Wrap and cover beets with foil, and place into oven for about 55 minutes or until knife tender, let cool.
Take the apple, and cut it into thin pieces. Place into water with a little vinegar, in order to maintain color, and set aside.
Take the beets, and remove the skins, slice into thin pieces roughly the same size as the apple.
In a small baking dish, lay down first the beets to cover, then spread a layer of chevre on top, cover with apples.
Take the filo dough and cut to the size of the baking sheet. Place the dough on top of the baking dish and bake until the center is warm and the cheese is runny. Gently take a knife and cut around the edges of the pan, and flip onto a plate so that the baked dough is on the bottom. Serve hot with a sharp knife.