September 10, 2015 | Alexis Truitt
Bottling and A Surprise!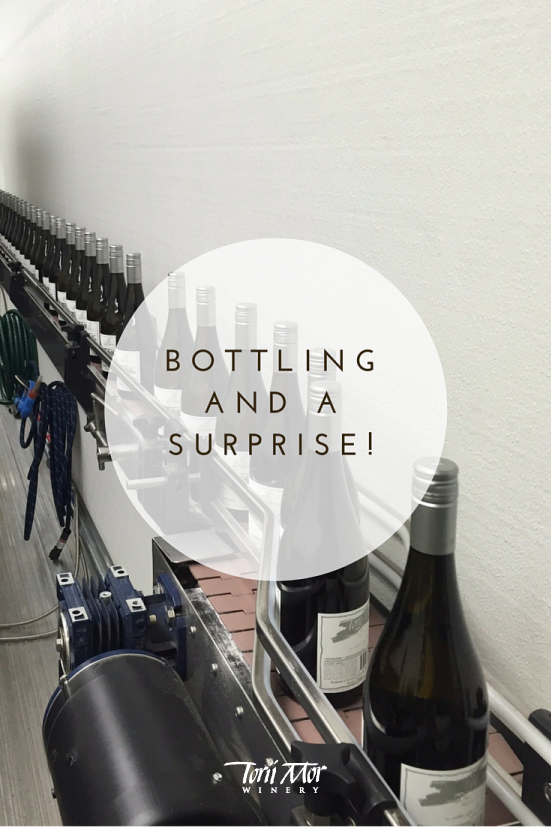 There has been quite a bit of newness in the works here at Torii Mor. In the midst of bottling and the beginnings of harvest and crush, we've been working on a surprise…
Brand New Labels!
Starting with our Willamette Valley Pinot Noir, you'll start seeing this label refresh on store shelves, and in your club shipments on your new 2014 wines. And be sure to keep an eye out for a brand new Winemaker's Reserve line of wines. The Winemaker's Reserve wines will be our winemaker Jacques's special wines, and those will start with the 2013 vintage.
We spent the week bottling and labeling our 2013 Willamette Valley Pinot Noir. Here are a few pictures of the experience.
First the bottles get dumped onto the conveyor belt, where they get funneled into a big wheel that pumps the bottles full of nitrogen, pushes the oxygen out and clears them of dust. They then get spun and filled with wine and continue on their conveyor belt journey. As they pass along, the bottles get caps placed on them, which then get punched down to give them their screw-cap functionality. They once again get funneled onto another conveyor belt where they are placed into boxes and stored on pallets until they get shipped out or moved to our tasting rooms for sale.
Photogallery rendered here.
Photos courtesy of Kris Marshall.
We'll keep you posted as to when this newly labeled Pinot Noir hits the shelves.
Cheers!
Alexis Truitt
Marketing Assistant and Social Media
Want to read more? Click below for more blog posts you'll enjoy!