October 15, 2015 | Alexis Truitt
Fall Club Recipes 2015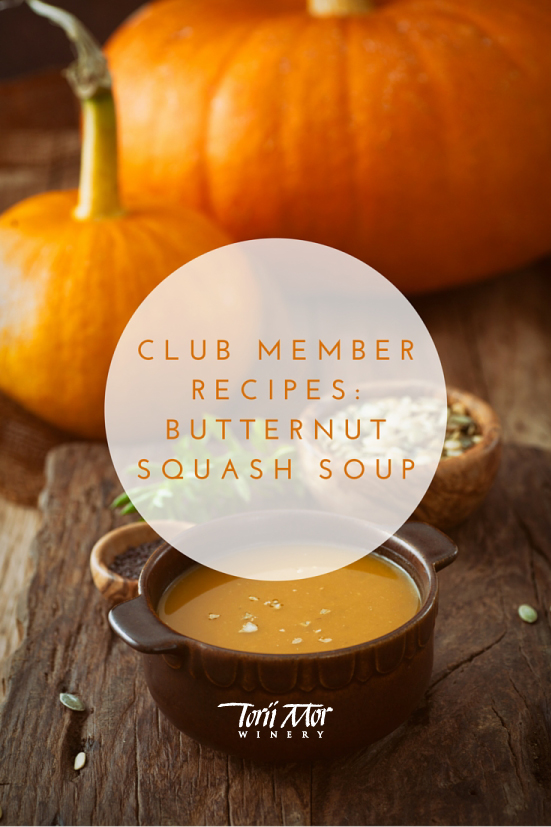 Nothing fits the autumnal season better than a warm soup paired with a perfect wine. For our September club shipment, we featured a delicious recipe from club member Kevin Gehringer: Butternut Squash Soup. Kevin and his wife Susan throw impressive dinner parties, complete with multiple courses and plenty of wine pairings so we knew he'd have a good recipe for our club.
We tested the recipe and it's just as delicious as it sounds. There are plenty of things that scream fall in this season of pumpkin spice lattes and changing leaves, but we'll curl up inside with a glass of Pinot and this delicious soup any day of the season.
Want to try the recipe for yourself? Let us know how much you love it!
Butternut Squash Soup
1 Medium/large butternut squash, peeled, seeded, and cut into ½ inch cubes
4 Medium/Large carrots cut into 1/2-inch pieces
2 Stalks celery, cut into 1/2-inch pieces
3 Cloves garlic, coarsely chopped
3 Small white potatoes, with skins, cleaned and cut into 1/2-inch cubes
3 Large apple, peeled, cored, coarsely chopped (honey crisp, pink lady, or granny smith)
1/4 t Ground cayenne pepper (add more or less to your taste)
1/2 t Cinnamon
1/4 t Turmeric
1/2 t Fresh finely ground black pepper
1 t Salt
2 T Olive Oil, enough to just coat the bottom of the pan
Makes: 6-8 servings
Combine butternut squash, carrots, celery, and garlic in a bowl. Just before cooking, prepare the apple and add it to the bowl with the other vegetables. This prevents browning of the apple.
Put potatoes in a separate bowl with 2 cups of water, or enough water to cover the potatoes and prevent browning. The water will be added to the pot too.
Heat a 4-quart stock pot over medium/medium-high heat until hot, and then add olive oil to coat the bottom of the pan. When ready, the oil should shimmer but not smoke. Add spices to the hot oil blooming the flavors for several seconds, until fragrant.
Add the chopped apple and all of the cut vegetables except the potato to the pot and stir to thoroughly mix and evenly distribute the oil and spices. Cook until some browning occurs, most of the moisture has evaporated, and a fond begins to develop on the bottom of the pan. Be careful not to burn it!
Add potatoes and their water to the pot, with additional water, if necessary, to just cover the vegetables. Bring back to a simmer, reduce heat to low and cover. Let cook until squash and carrots are soft, and potatoes are completely cooked, stirring occasionally to cook evenly.
When the vegetables are done, puree with a blender until smooth. Additional water may be needed to get the desired consistency or to help the pureeing process. Taste and adjust seasoning with salt and black pepper. Be careful with the salt if you plan to use finishing salt when.
Serving suggestions:
Serve with a dollop of sour cream or yogurt in the center of soup, garnish with smoked salt, fresh ground black pepper, and chopped basil.
Did anyone try the second recipe in the club shipment, the harissa rubbed pork tenderloin? Let us know!
Curious about our club? Want more delicious recipes? Click here to see our offerings. We have something for everybody!
And wine club members! We would love to feature one of your recipes! If you have a recipe that you just love with one of our wines, send it here, and we might feature it in a future wine club shipment!
Cheers!
Alexis Truitt
Marketing Assistant and Social Media
Want to read more? Click below for more blog posts you'll enjoy!