December 3, 2015 | Alexis Truitt
November Events Recap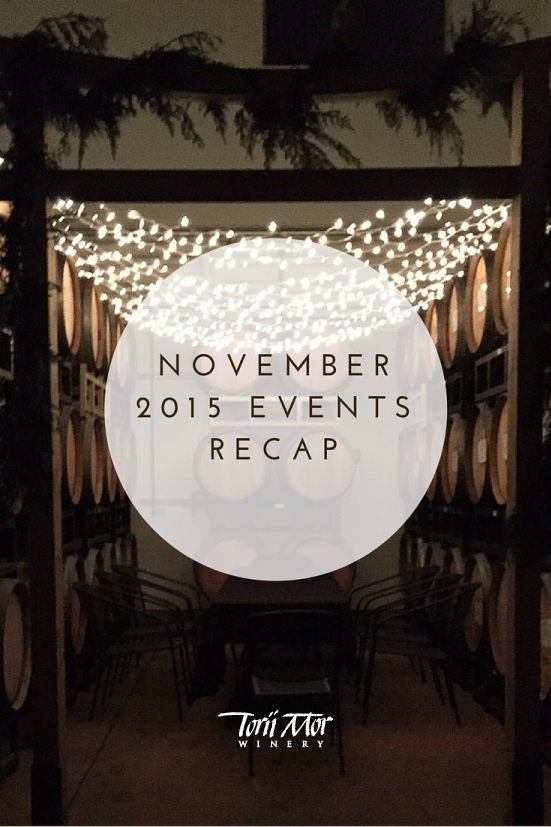 It's been a busy month here at Torii Mor! With wine club pick up parties and Thanksgiving weekend, we've had a cheerful and busy month. For those of you who couldn't make it to the event, here's a recap of the events.
Woodinville Wine Club Pick Up Party
We started the club pick up party fun at our Tasting Room in Woodinville, WA. Our Seattle fans are so good to us and we had a fun day of tasting some library wines, and our new limited release Syrah. Our assistant winemaker Jon and our wine club manager Monique made the drive up the spend the day with our club members and walk everyone through the wines.
Dundee Wine Club Pick Up Party
We had our second wine club pick up party at the winery in Dundee, OR the following weekend. The winery was decorated with twinkle lights and Christmas cheer, and guests tasted through library wines and our Syrah while Jon and Jacques Tardy, our Director of Winemaking, walked each guest through the line-up. And as with every November here in the winery, we served a variety of soups to warm us up on that cold November day. The Hungarian Mushroom was a big hit!
Thanksgiving Weekend Seated Tastings
And of course, November means Thanksgiving for those of us in the USA, so we celebrated Thanksgiving weekend with a special change this year. Instead of doing normal tastings, we closed the tasting room and hosted a more intimate experience of seated tastings. With a line-up of seven different wines, a cozy atmosphere amongst lit barrels, and individual charcuterie plates of local bites, it truly was a weekend to remember. We can't wait to host them again next year!
Photogallery rendered here.
Don't want to miss out on our future events? Want to know what our wine club is all about? Click here to see more about our wine club and sign up for the club that fits your needs and desires. All our events are discounted or free for our club members! If you just want to stay abreast with our events and promotions, sign up for our email list here, and scroll down to the bottom of the page.
Cheers!
Alexis Truitt
Social Media and Marketing Assistant
Want to read more? Click below for more blog posts you'll enjoy!