May 4, 2017 | Alexis Truitt
Oregon Wine Month 2017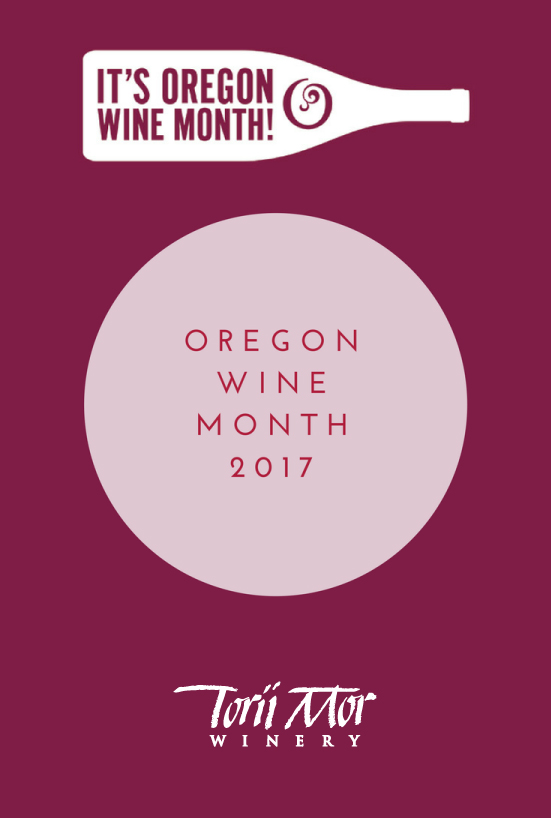 May is a special month for Oregon Wine for multiple reasons: the sun starts shining, celebrating Memorial Day Weekend is a treat, and it's Oregon Wine Month. Oregon Wine Month gives us wineries a chance to really celebrate who we are, our rich history of wine in Oregon, and to share the joy and camaraderie of wine with others.
Here at Torii Mor, we'll be celebrating with a few fun and exciting things so here's the detailed report on what to expect from Torii Mor this May!
Social Media
Keep tabs on our vineyards progress, what Jacques and Jon are up to in the winery and distillery, and take a month-long jaunt through our favorite wines! Each Tuesday and Thursday expect a special post on Facebook, Instagram, and Twitter with a tidbit about our favorite wines and what makes them special.
Win a Wine Country Weekend!
As well, we'll be sharing all the details of a special sweepstake! The Oregon Wine Board is offering the chance to win a wine country getaway in the Willamette Valley or in Southern Oregon! All the details can be found here.
Events
This Memorial Day weekend, May 27-28, for a special tasting in honor of the holiday.
We'll be celebrating the season with the exceptional wines from the 2014 & 2015 vintages. Join us for a tasting of our white wines and Pinot noir in a keepsake glass while you enjoy our Japanese-style garden and views of Mt Hood.
Torii Mor will be open on Memorial Day and pouring the regular flights in our tasting room on Monday, May 29th. Click here to take a peek ahead into our summer events as well!
Keep an eye on social media for Torii Mor and your other favorite Oregon brands for more celebrations and fun during May, Oregon Wine Month! See you on Memorial Day weekend!
Cheers!
Alexis Truitt
Social Media and Marketing Assistant