April 13, 2017 | Alexis Truitt
Spring in the Vineyard 2017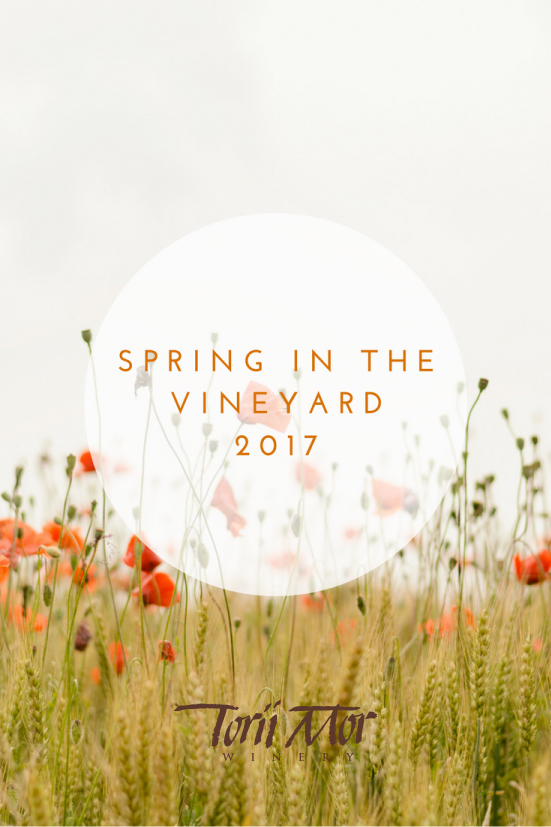 Springtime brings the beginnings of the hustle and bustle of the year here at the winery and vineyard. Jacques's once again writes us a letter about the happenings in the vineyard and the winery this spring.
The deluge is slowing down… we are starting to see some sunshine, after one of the wettest winters. Wettest February and third wettest March on record for close to 20 inches of rain in 2 months… after all that snow, then rain, what's next? Sunshine?
The new vines will be planted next week, they spent the winter in the barrel cellar to avoid freeze damage, the crew couldn't get in the field earlier because it was way too wet, and they had to finish pruning and tying other vineyards too.
We just received the new Pinot Noir vines from Knights Nursery in California, UCD clone 95.
A clone brought to UC Davis, from Burgundy's famous Clos de Vougeot, by Dick Erath in the late 70's, to be cleaned from viruses and propagated by the University of California at Davis.
In 2002 (or is it 2001?) Dick got a call from UC Davis letting him know that his clone was ready… a quarter of a century later. He had kind of forgotten about it.
Dick has planted some acreage and made wine from this clone; Don and I tasted the 2015 vintage with him on January 16 of this year, and found the wine of dark color, forward aromas, with really rich and unctuous flavors, sweet, dark fruit notes, and a rich structure, a lot like the Pommard clone planted throughout Oregon wine country. Don called it the new "grand Cru" of Oregon Pinot Noir… we have added 129 vines to this year's planting.
The Chardonnay vines are pushing their buds in the wool, but the Pinot Noir is barely moving. We are looking at a more "normal" start of the growing season, with a mid to later April bud break…
In the winery, we are getting ready to start racking the 2016 Pinot Noir barrels next week and prepping the 2015 Olson and Yamhill-Carlton Select for bottling at the end of the month.
Cheers,
Jacques Tardy, winemaker