August 11, 2016 | Alexis Truitt
2014: The Vintage of a Lifetime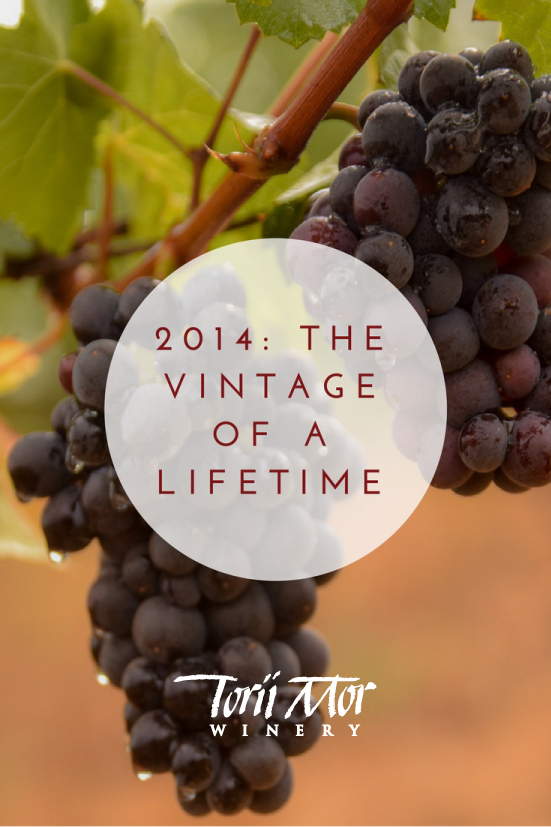 Every vintage has its challenges, its thrills, its perks, and its cons. Some people would say to focus on vintages, others would say to focus on the producer and not worry about the vintage.
No matter how you spin it, vintages can give you a clue about the wine you're about to drink and can help you better understand where the wine came from, how it was grown, and what the winemaker did to get it to your weeknight dinner. As well, digging into each vintage can be a fun exercise, because you can learn a bit more about the area the wine is from, how vines grow, and how a vineyard is managed and kept healthy.
The 2014 vintage was one for the books. Unprecedented weather and yields made 2014 a vintage hailed as the "vintage of a lifetime".
So what made this vintage so epic for Oregon wine?
Numerous factors go into each vintage: climate, daily weather, rain, wind, sun, heat, cold. For 2014, the stars aligned and whatever could go right, actually did.
Everything started early, due to warm days and warmer than usual nights All the major milestones (harvest, bud break, verasion, etc.) were several weeks early due to the warmer nights which allowed the grapes to ripen fully earlier than if the nights had been cooler. These warmer nights were what actually broke the heat records, rather than the daytime temperatures.
As well, there was a lack of disease pressure. Oftentimes, certain weather patterns can make vines more susceptible to various diseases, which of course, are a concern. However, in 2014, the vines were safe from diseases, which was one less thing for winemakers to worry about as they prepped for harvest.
Harvest began early in the valley, during the first week of September and was finished in more places before the first week of October. Here at Torii Mor on our Olson Estate, we started harvest September 12 and finished October 10th due to our higher elevation.
The 2014 vintage was a vintage of high quality and high quantity. If you were to ask a winemaker what problems the 2014 vintage presented, most of them would say there wasn't enough space to ferment all the grapes they brought in from their vineyards! Our Olson Estate Vineyard brought in 25% more grapes than estimated!
As these delicious and beautiful 2014 wines start to roll out, snatch them up. They are a special vintage and worthy of a spot in your cellar.