September 15, 2016 | Alexis Truitt
Why You Need Single Vineyard Pinot Noirs in Your Cellar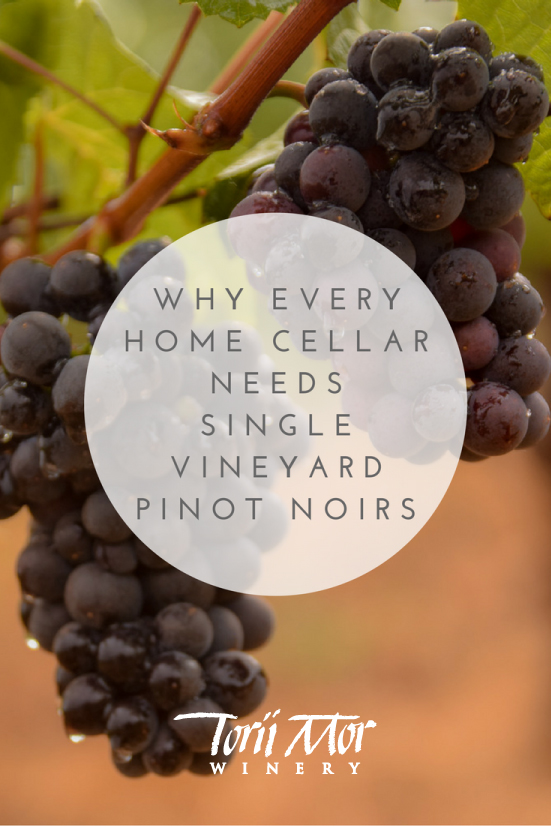 There are a million reasons why every home cellar should have a few single vineyard Pinot Noirs. Not only are they a unique addition to your cellar, they're the sort of wine that can easily elevate a weeknight dinner or the perfect pair for a fancy dinner party. With a chameleon-like ability to pair with most any event, single vineyards should be a necessity in your cellar. Today, we're highlighting five reasons why you should have these special gems in your home cellar.
Sense of Place - Wine has the ability to transport you around the world, but no wine does that better than a Single Vineyard Pinot Noir. Each vineyard is unique, with different elevations, different microclimates, different dirt, different views. Enjoying a single vineyard wine takes you back to the vineyard from where it came, and allows you to imagine yourself back in the Willamette Valley, nestled among the vines.
Distinct Flavors and Aromas - When you blend a variety of grapes or clones together, you can create truly beautiful blends. But when you can feature one specific vineyard location, with its specific grape and specific clones, you're able to experience the depths of flavor and aroma that wine offers. Nothing else will give you such variety or flexibility as a Single Vineyard Pinot Noir. Vineyard to vineyard and vintage to vintage, single vineyard wines offer more variety for your cellar so you're always prepared when a night requires wine.
Showcases Variety in a Grape - every wine grape has several clones, sort of like different breeds of the grape. Pinot Noir has over 40 different clones, each with different characteristics that add quality or flavor to the wine they make. Each vineyard owner plants different clones, so when you drink a single vineyard, you're not only enjoying a specific vineyard, you're also getting a peek into the mindset and preferences of the vineyard owner and what grapes he or she thinks are the best of the best.
Limited Releases and Availability - Since single vineyard wines come from one vineyard, the amount of wine able to be produced is very limited. When grapes come from a 5, 10, or 25-acre vineyard, the wine produced are small lots. For our single vineyard Pinot Noirs at Torii Mor, we only produce about 150-200 cases of each wine. They start by going to the club, and whatever is left over is released to the public.
DIY Verticals - A fun trait of single vineyard wines is you have the ability to create your own verticals. As you add to your collection, you'll begin to notice the vineyards that you like and enjoy the most. You can create your own verticals by collecting the single vineyard from each vintage it is released. Another fun tasting experience is gathering a few bottles of wine from a few different vineyards who all source fruit from the same vineyard.
Limited Grapes - Sometimes a single vineyard wine is the only way to get a wine made of grapes from a certain vineyard. Quite a few vineyards don't make their own wines and focus only on selling their grapes to winemakers. When you buy a single vineyard featuring grapes from sites like these, you're getting a small piece of a very limited puzzle. These are especially unique additions to your cellar!
And what single vineyard wines does Torii Mor make you might ask? We have a great variety! Whether you love the funk of the Alloro, the bold Olalla and La Colina, or the ever-changing Nysa, we have something for you.