January 26, 2017 | Alexis Truitt
Winter in the Vineyard 2017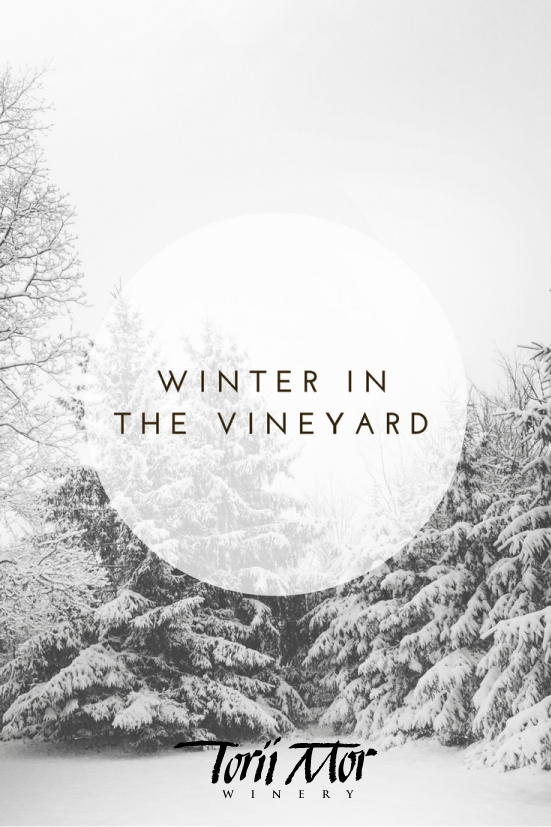 Winter can be a slow season, but while the vineyard sleeps, the winery is still churning out deliciousness for you! Jacques detailed some of the goings-on in the winery this winter in our most recent newsletter, but here he details one more exciting project: the start of our grappa production! If you missed the newsletter, sign up here by scrolling down to the bottom of the page!
We have survived several snow events already in 2017, starting in early December. Not quite winter by the calendar, but it sure looked and felt like winter here. The temperatures went down to the low teens and even single digits as we were starting to get into the New Year. We also experienced a nice layer of snow - three to four inches in the Dundee Hills and over a foot in Portland and surrounding areas. And as if the compacted snow wasn't enough, freezing rain was in the forecast. Four wheel drive and studded tires were the only way to go for a while to get to work in the hills.
The snow acted as a blanket to the vines so I am not expecting to see any vine or bud damage. I have checked buds on the canes and everything is nice and green.
The vines didn't suffer damage because they are dormant in winter. The snow delayed the start of pruning, which usually starts in early January here. We have another two months, at worst, before we will see any awakening of the vines. Bud break usually happens in the first 2 weeks of April, but in the past 3 years, it has been closer to the end of March. Yet in 2011 it was early May!
This spring we will re-plant the one acre of Pinot Noir we pulled out last year. t had weakened because of the Phylloxera bug feeding on the roots. We already have the grafted plants and are waiting for some dryer weather to get in the field. The news plants are all grafted Pinot Noir, including Pommard, Dijon 114 and Dijon 777 clones, and possibly a new clone from Erath Vineyard.
The 2016 Pinot Noir in the cellar has completed the Malo-Lactic fermentation already. The wines follow the same fruity-sweet-rich style of Pinot we had in 2014 and 2015.
We are preparing the 2016 Pinot Gris and Rose' for a bottling on February 10, just in time for Valentine's Day.
Jacques Tardy
Winemaker