1.5L - 2006 Hawks View Vineyard Pinot Noir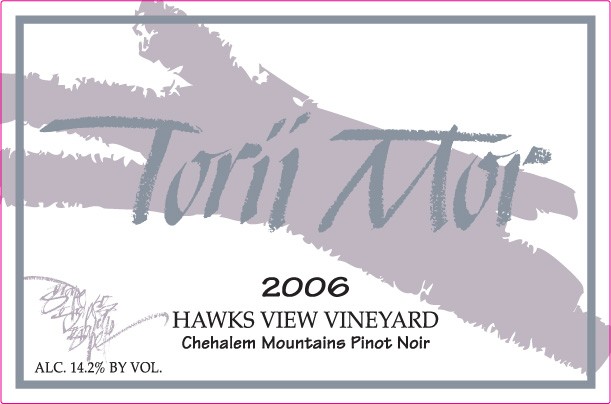 Wine Profile
Tasting Notes
The 2006 Hawks View Vineyard Pinot Noir has a rich aroma, a mix of cherries, tobacco and vanilla. As the wine is aerated, more cherry fruit and earthy-tobacco notes appear. The flavors are of dark cherries, earthiness followed by toasty oak notes and spices. The wine has great acid presence, showcasing the beautiful fruit. The mouth-feel is rich and full with just a touch of tannins. The aftertaste is rich and sweet with layers of red and dark fruits, earth notes, cedar-oak notes and light pepper spiciness. The wine has a good, medium sweet texture, with soft tannins that still show a little edge in the after taste. This wine will benefit from extended cellaring or aerate in a decanter for maximum enjoyment.
Vineyard Notes
Hawks View Vineyard is located in the Chehalem Mountains AVA. Torii Mor receives fruit from several blocks including self-rooted Pommard, Hanzel selection and Wadensvil Pinot noir vines planted in 1991 with 7.5 x 5 spacing, and Dijon 777, 667, 115 and 114 on Riparia gloire rootstock planted in 1998 with 7 x 4 spacing. The soil is alluvial in the Laurelwood series. Hawks View Vineyard faces south/southeast and lies at an average elevation of 350 feet. This wine is comprised of 7.14% Dijon 667, 28.57% Dijon 777, 14.29% Dijon 114 and 115, 28.57% Hanzel, 7.14% Pommard, and 14.29% Wadensvil clones.
Production Notes
The grapes were picked from September 26th to September 28th at 2.49 tons per acre and were fermented by indigenous yeast in small fermentors. They were punched down three times daily, pressed very gently, and racked to a variety of new (36%) and used French oak barrels (21.4% 1 year old) , the rest neutral. The barrels were racked in April, then again in August, when the blend was put together before returning to barrels for another 3 months.