50th Anniversary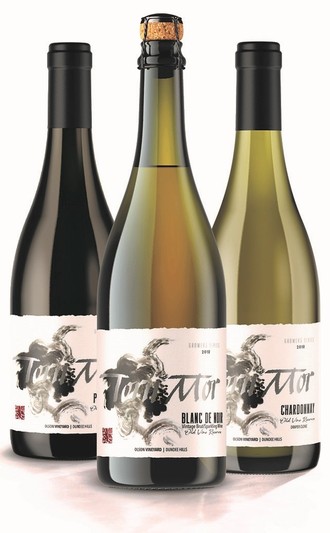 The 2018 Olson Vineyard Chardonnay has a rich, sweet aroma; a blend of ripe and backed apples, a sweet floral bouquet, and a hint of cinnamon-clove, and furniture wax. The flavors have a bright, sweet-rich entry, with medium oiliness, followed by a burst of ripe and backed apples, with touch of oak spices.
The mouthfeel is bright, with a tongue coating "fat" layer, a rich middle and a long sweet flavorful finish.
Ready to drink now, this Chardonnay will improve with cellaring for 3 to 5 years.
The 2018 Olson Vineyard Old Vine Pinot noir has a sweet, rich, forward, complex aroma of boysenberries and blackberries, getting richer and more intense with each inhalation, framed with dark floral notes and oak spices, and red cherries (late in the game), embracing the complex fragrance.
The flavors are intense, sweet, bright and fresh, with rich red and dark cherries followed by darker berries, framed by rich, velvety tannins, oak-spices and earthy complexity.
The texture is rich and thick, with elegant, sweet-velvety tannins.
The finish is very long, rich and sustained, with red and dark berry flavors intermingling with the oak notes and the lightly spicy tannins.This wine benefit from cellaring but can be enjoyed anytime without decanting.
The 2018 Sparkling Blanc de Noir 100% Pinot Noir commemorates Torii Mor's 50 years of grape-growing in the Dundee Hills. Crafted by our head winemaker Jon Tomaselli in collaboration with former winemaker Jacques Tardy, the winery's first sparkling spent three and a half years on tirage and is made with grapes from 100% Olson Vineyard Old Vine Pinot Noir. Using the single vineyard Sparkling Blanc de Noir Old Vine Pinot Noir style, we are joining a similar tier of other premium sparkling wine houses throughout the world.