Cedar Plank Salmon w/ Skewered Veggies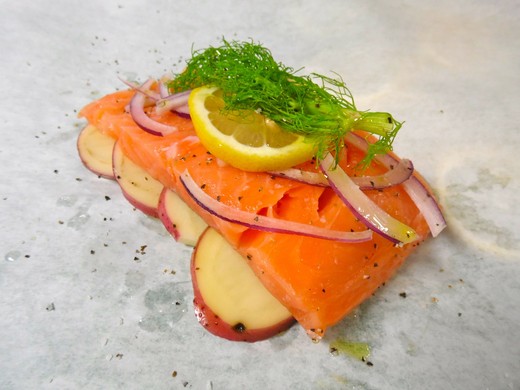 Recipe Date:
July 11, 2016
Measurements:
Imperial (US)
Ingredients
1 Cedar Grill Plank
8 ozs salmon
1 lemon
1 bunch dill
8 fingerling potatoes
1 bell pepper
1 red onion
1 ear of corn
salt and pepper to taste
Directions
Heat up your grill, to about 400 degrees.

While the grill is heating, place salmon on a wet cedar plank and season lightly with salt and pepper. Place lemon coins and a sprig of dill on the salmon. Allow to come to room temperature.

While salmon is tempering, put the potatoes in a pot of salted water and bring to a simmer. Let simmer until potatoes are tender. Strain and cool.

Cut the corn into four pieces and dice the bell pepper and onions into larger chunks. Slide vegetables onto skewers.

Now that everything is prepped, place the plank and kabobs on the grill. Cook until finished, about 12-15 minutes.

While the salmon and vegetables are cooking on the grill, take the potatoes and smash them with your hand. Heat some oil or butter in a pan and cook potatoes until golden brown, ten minutes.

Serve veggies wth potatoes, off the skewers and place salmon on top.