April 21, 2016 |
Alexis Truitt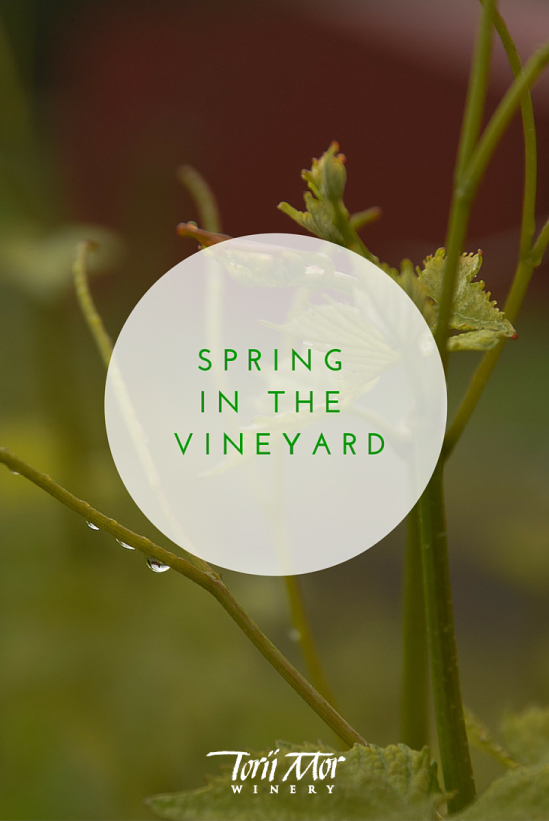 Springtime brings the beginnings of the hustle and bustle of the year here at the winery and vineyard. Jacques's once again writes us a letter about the happenings here this spring. These letters are always a special read and we include them (along with lots of other goodies!) in our quarterly newsletters. If you're not signed up for our mailing list, do so now to get the first look at all the action. Click here and then scroll down to the bottom of the page to sign up!
Yes, it is still raining. Spring arrived a couple days ago without fanfare, and it still looks and feels like it did a couple days ago, but the plants are noticing; the daffodils are finishing their hoorays while the Tulips are beginning theirs and every day more trees are also getting their flowery spring dresses on.
The vineyards are also coming out of dormancy. Our vineyard workers have been busy trimming the vines down to two canes that are now laying down on the fruiting wire from where the new shoots will sprout upward toward the sun. As of now the bud scales are just opening and the wool protecting the new shoots are starting to show, meaning we are going to start our spray season to protect this new crop still hidden from us.
In the winery, we have been busy finishing the new 2015 white wines, bottling the new Pinot Gris and Rosé, and also the 2014 Chardonnay and 2014 Olson Pinot Gris. The new Pinot Blanc, Riesling and Viognier will be next. The 2015 Pinot Noirs are a lot like 2014's: rich, sweet, soft tannins and very fruit forward.
We are starting to plan for the 2016 grape harvest barrel deliveries. The cooperages are now busy in France making those barrels that will have to be shipped across the Pacific by mid-July to arrive early to mid-September (everybody is on vacation in August in France).
We know the rainy days are behind us, but it will be nice to see the blue sky…
Cheers,
Jacques Tardy
Winemaker
Want to read more? Click below for more blog posts you'll enjoy!