January 7, 2016 | Alexis Truitt
Winter Vineyard Report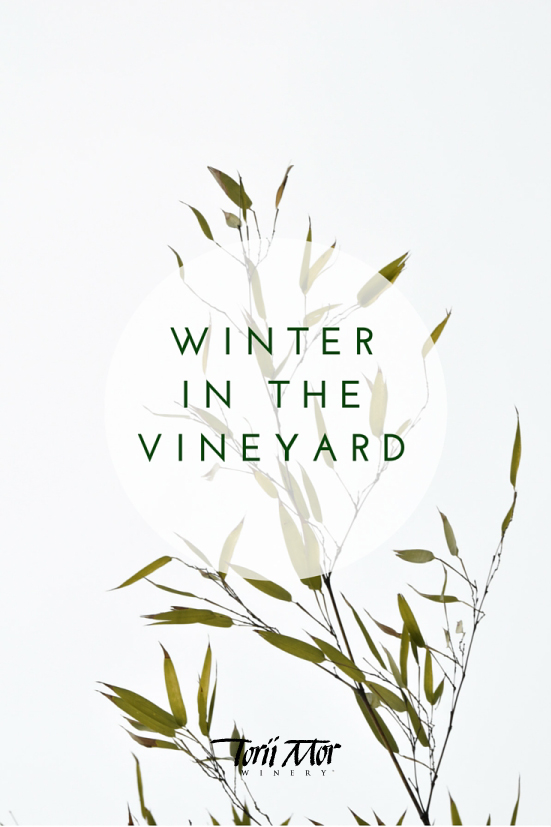 Winter can be a slow season, but while the vineyard sleeps, the winery is still churning out deliciousness for you! Jacques detailed some of the goings-on in the winery this winter in our most recent newsletter, but here he details one more exciting project: the start of our grappa production! If you missed the newsletter, sign up here by scrolling down to the bottom of the page!
The vineyard is peaceful right now. Other than the occasional family of deer visiting from time to time, I can't see any other creature stirring around. With this record rain we are having, (eleven inches and counting), nobody is going in the vineyard to start pruning until early January. Neither the rain or the wind have done any damage though; the vineyard rows themselves are covered with native grasses, their roots anchoring the soil and preventing erosion.
In the winery, we finished barreling the Pinot Noirs in October, and Malo-Lactic fermentation is happening in those barrels right now. All the Pinot Noirs have great fruit aroma and flavors, more on the fresh fruit side than the raisiny-jammy side. With a mix of red and dark fruit, good acidity and soft tannins the wines show great promise.
All the white wine fermentations are also done. All taste great as they should, following a warm summer and cool September.
We have also been quite busy distilling both brandy, from juice pulled out of the Pinot Noir fermenters to keep a good ratio liquid-solid, the berries were so big and full of juice, and grappa from our Pinot Noir skins and seeds left over after pressing.
We just finished distilling the grappa and we like what came out of the still, very sweet and not really harsh as most grappa can be.
We had to make our own still for the grappa with what we had on hand. A 100-gallon stainless steel tub that we covered with a lid with the spare goose neck from our copper still worked amazingly well for a minimum investment. We were not sure if the grappa was going to be any good, but now we know, it is GOOD!
Happy winter!
Jacques Tardy, Winemaker
Want to read more? Click below for more blog posts you'll enjoy!