February 25, 2016 | Alexis Truitt
2013: The Vintage of Three Harvests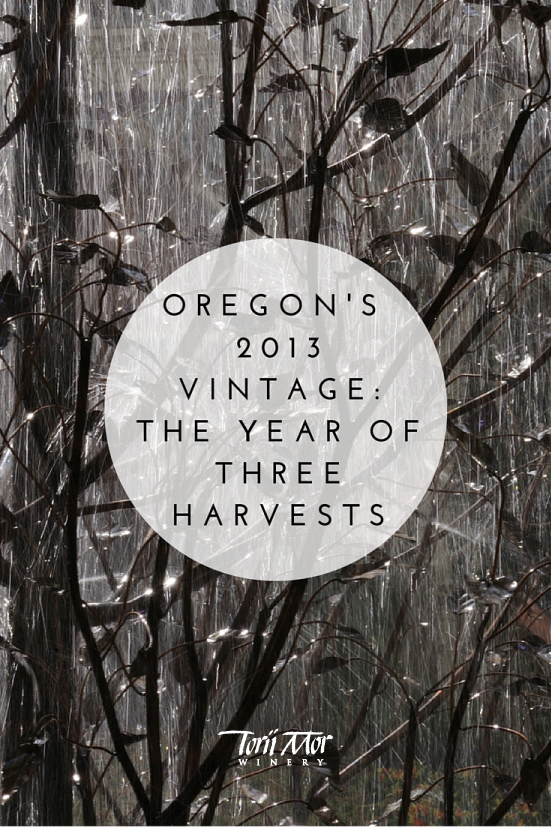 If you were in the Willamette Valley in September of 2013, your memories are probably marked by one thing: rain. Lots and lots of rain. At the time of year when it's normally beautifully sunny, dry, and temperate, the valley became a damp mess. There is a whole list of words winemakers and viticulturists would use to describe the 2013 vintage. Easy or straightforward would not be on that list. Challenging and problematic would be.
2013 was the vintage of the three harvests: those who harvested grapes before the rains, those who harvested grapes during the rains, and those who harvested grapes after the rains. The summer of 2013 was a really lovely summer, warm and dry. Then the rains set in, with almost seven inches of rain at the end of September. Excessive rain impacts grapes in a few ways, but the one that caused the most problems was botrytis, or in the more common term: rot. Winemakers and viticulturists had to make hard decisions on what fruit to bring in when, and if they did wait, they had to vigorously sort the grapes as they went to the fermentors.
What resulted was a vintage of wine that left people both excited and apprehensive. But they needn't have worried. For a vintage riddled with surprises and stress, the 2013 wines are gems. You wouldn't expect remarkable wines to come from a vintage notable for its unpredictability. But that's the beauty of Oregon: turning expectations on their heads to reveal the true pearls in this oyster that is the Willamette Valley.
The vintage was set to produce ripe and lush wines but in the end, the 2013 Pinot noirs have turned out more elegant and restrained (right up Jacques's alley!), with a lower alcohol content. Warmer vintages can make fruit flavors highly pronounced in wines while colder vintages allow more acidity and herbal notes to shine through. The 2013 vintage bridges the gap and delivers wines that are elegant, refined, and incredibly food friendly. You can enjoy them now or let them age to really have a chance to shine.
Have you gotten your hands on some 2013s? We still have a few in stock! Don't miss out on these beauties. Not only do they pair perfectly with any dish, but they'll make a nice addition to your cellar, and will reveal a bit of wonder when you pop them open years down the line.
What have been your favorite 2013 Willamette Valley wines?
Cheers!
Alexis Truitt
Social Media and Marketing Assistant
Want to read more? Click below for more blog posts you'll enjoy!